2

mgsolipa
Apr 21, 2015 08:34

Hi @ramadama,
We already have a threaded comments feature in b2evo. For some reason it is not fully functional in the forum skins, but you can get it by using the file I'm attaching to this comment and enabling "Threaded comments" in the back-office (http://b2evolution.net/man/comment-viewing-options). The file could be improved, but works as a quick idea, just uncompress it and replace skins/pureforums/_item_comment.inc.php.
It would be very interesting to have that document translated, because as far as I know, a forum is a tool that let people talk about a topic, and reply to others in no particular order (this could be achieved with the threaded feature mentioned above). So, IMO, the rest is just UX and not part of the conceptual definition of "Forum". However, by playing around with the page you linked, I can get a general idea about the text. Displaying only the current answer and a tree view of the whole discussion in order to navigate through it, may be possible with the current structure but adding new displays, I guess.
The thing is that maybe we are not trying to offer the best forum feature ever, but a fully functional one completely integrated into the website engine.
Regards !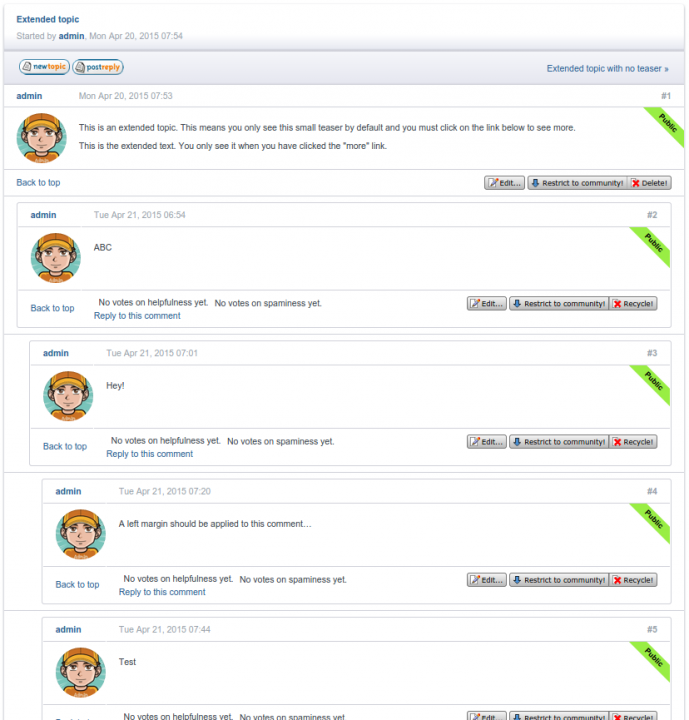 Attachments: